Magnetic Labels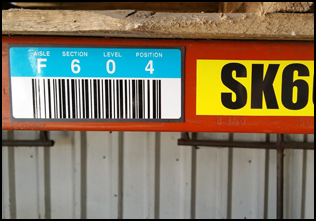 Using magnetic labels to identify inventory reduces down time from inventory moves and label reprints. More…
Magnetic Strips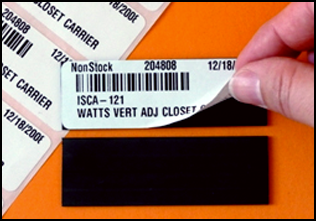 Magnetic strips are prescored to common label lengths and ready to use. Stock sizes or custom cutting available. More…
Magnetic Warehouse Labels
Inventory moves frequently, adhere warehouse labels to a magnet and increase productivity and reduce sticky residue. More…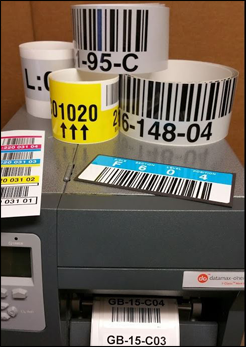 Are you tired of peeling stickers off of your warehouse shelves? Label Magnets creates custom magnetic labels, tape, strips, and sheets for warehouses, retail outlets and other commercial uses. Paper stickers are a hassle, they leave behind unpleasant sticky debris when they are removed. Magnetic Labels will save your time and eliminate the messy adhesive residue from sticker labels directly attached to metal shelving. The convenience of magnet labels will streamline your warehouse labeling process and keep your shelves looking neat. Why continue to use messy paper stickers when reusable magnet labels will save you time and money? Magnet labels can be made into any size, whether you require standard sized magnet strips or an entire custom magnetic sheet, at Label Magnets, we are happy to create custom sizes to fit your needs.
Label Magnets is proud to be a premier provider of magnetic strips, sheets and other magnet label solutions for businesses and individuals. All of our magnetic labels, strips and sheets are made in the USA to ensure consistent quality and enhanced strength. When you order magnetic tape, magnet strips or other magnetic labeling products, your order is manufactured and shipped within one week, much faster than overseas shipping. At Label Magnets, it is our pleasure to provide you with the highest quality custom magnetic labels, tape, and other products. With impeccable customer service and an amazing selection of quality magnetic labels and related products, the Label Magnets team is ready to exceed your magnetic labeling needs. Contact our sales office directly at: 303-740-4892.
Adhesive Magnets for Warehouse Labeling and More
Label Magnets helps make sense out of inventory chaos, one magnet at a time. We make custom-ordered, printed magnets that help organize your warehouse in clear detail. Our magnetic labels and strips make it easy to track all the items you carry in your warehouse, no matter how often they shift from place to place.
Our magnetic shelf labels are easy to apply and remove, without the sticky tape residue and wasteful reprinting of paper labels. We help warehouse employees navigate the maze of shelves, racks and storage areas with clear and visible text, color, barcodes and whatever other information fits, and our magnetic warehouse rack labels move as easily as you do.
Label Magnets makes warehouse labels specifically for your business, its unique products, and organizational needs. Our magnets come in a huge range of shapes, styles, and quantities—including rolls and strips, sheets, envelopes, standard letter size, even business cards, dry-erase labels, and pot magnets. With professional printing of the information most important to you and your employees, our magnetic warehouse labeling can help ramp up your workplace's efficiency, agility and business intelligence.
Label Solutions Outside the Warehouse
Label Magnets were designed for use as warehouse labels in the heaviest, most work-intensive environments—but those aren't the only places our products are made for. Our magnetic shelf labels, sheets, and signs are readymade for applications outside the warehouse as well.
Custom-printed magnetic labels help any business, large or small, that wants to organize their products, services, and supplies. Label Magnets has years of experience helping all kinds of companies and agencies, and our products are beneficial to a wide range of professional offices:
– Auto dealerships. New and used car sellers can use oversized magnet labels to properly move sale information from car to car—especially helpful for fast-moving inventory and seasonal sales.
– Garages and repair facilities. Mechanics and repair personnel can easily organize and find the tools and small implements they use every day, whether on shelves and racks or in toolboxes.
– Schools. Magnetic labels can help educators and administrators sort and find office supplies, forms, mailboxes, standardized test forms, whiteboard magnets, physical education equipment, and virtually any items they need.
– Libraries. Keep your book and periodical racks in the neat order librarians love with magnetic labels highlighting subject, decimal system, author or other information.
– Laboratories. Magnetic labels are ideal for organizing lab supplies, fluid or substance samples, equipment, research archives, whiteboard info and materials needed by lab managers, assistants and students.
– Doctor's offices. Label Magnets can turn professional medical offices into strongholds of efficiency by identifying diagnostic equipment, supplies, file cabinets, whiteboard schedules, disposable biohazard receptacles, professional and insurance forms, and much more.
– Business offices. Stop writing out those subjects and titles you use at every single whiteboard presentation with our printed magnet labels. They're also perfect for common uses within the office like whiteboard schedules, room and cubicle assignments, office supply inventory, computer and server ID's, even the break room refrigerator.
– Retail, restaurants and commercial services. Take the mystery out of the inventory and supplies for your retail business, restaurant or service outlet with magnetic labels for shelves, racks, freezers, bulk bins, daily specials whiteboards and more.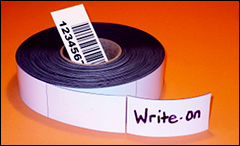 Benefits of Label Magnets
– Organization. Label magnets are simple, strong identifiers that make supplies and inventory recognizable and accessible, making your business more efficient as a result.
– Movability. Inventory and storage locations change all the time, especially when business is busy or growing. Labels on adhesive magnets make it easier to shift items around without losing track.
– Cleanliness. Forget about scraping off the remains of old scotch tape that once held up paper labels—magnets come off metal surfaces as easily as they go on.
– Paper saving. Using magnetic shelf labels for common items means you don't have to waste entire pieces of paper for handwritten or computer-printed labels. You can also use our dry-erase magnets for new or frequently changing items.
– Customization. Label Magnets' products are easily arranged, shaped, sized, cut to fit the space you need and the data you have. We reprint the information most important to your business, including color codes, barcodes, ID numbers, location identifiers, and more.
– Professionalism. The more streamlined your business operations, the more confidence you have. Even something as simple as magnetic labels can make a big difference in your command over your business's functionality.
Whatever your project—whether it's multiple sheets of magnetic warehouse rack labels or just a few adhesive magnetics for a small retail store—Label Magnets' customized products will give your business better organization and higher efficiency.
We only use materials produced in the United States for better quality and resilience. Custom orders are designed, prepared and shipped within seven business days to any location in America. Label Magnets' customer service is second to none, and we're enthusiastic about helping your business improve with labeled, adhesive magnets.