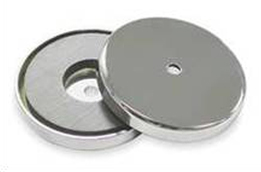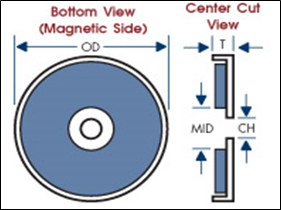 By combining a powerful ceramic ring magnet with a nickel plated cup we have created the perfect holding magnet for use in workshops, warehouses and offices. A mounting hole allows for added hardware in order to hanging lights, signs, tools and more from metal beams, forklifts, file cabinets, and metal doors.
Holding and pull strength
Pull strength is tested on a .5″ thick clean, flat steel plate in a controlled environment. Pull strengths may vary during application depending on the surface it is attracted to (thinner steel surface which is painted and textured). Samples are available for a small fee.
| | | | | | | | | | |
| --- | --- | --- | --- | --- | --- | --- | --- | --- | --- |
| Item # | | | | Thickness | | | | Wgt | |
| MRB-50 | 30# | 2.030″ | 0.187″ | 0.313″ | $7.50 | $7.00 | $6.50 | 0.15lbs | |
| MRB-70 | 70# | 2.625″ | 0.280″ | 0.375″ | $9.50 | $9.00 | $8.50 | 0.35lbs | |
| MRB-80 | 95# | 3.200″ | 0.280″ | 0.438″ | $15.00 | $14.00 | $13.00 | 0.55lbs | |