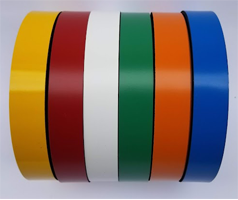 Colored flexible magnets are perfect when drawing attention to product requirements or workflow. They draw attention to critical information on shelving and do not blend into black / white labeling. It directs how products are stocked, levels of inventory, dated products, and gives direction on what to do next within the operation. Wet erasable magnets are a semi-permanent solution to labeling. When the needs change simply erase the writing with a wet cloth.
Thickness: .030", 1/32" thick and is also referred to as 30Mil.
NOTE: Rolls are 50 feet long.
Use WET erase markers (do not use dry erasable markers as it will stain vinyl).
Color code inventory based on product life cycle.
Easily cut with scissors or utility knife.
We can cut to size, call for pricing. Contact Us.
Part #

 

M1WColor

$36.00

$32.00

$28.00

5

M2WColor

.030 x 2″ x 50′

$64.00

$58.00

$52.00

10

Select

c

o

l

o

r

at checkout
Your Top Choice for Wet Erase Colored Magnetic Strips and Labels

For over 35-years, the professional team at Label Magnets has been delivering customized and convenient labeling solutions to the customers we serve. We've long partnered with companies and individuals looking for simpler routes to clear signage that's as straightforward as it is flexible. While all of our products can be personalized according to consumer needs, our colored magnetic strips take labeling to a new level of convenience.

The Benefits of Colored Magnetic Strips for Warehouses

Managing a warehouse successfully comes down to incorporating details that streamline daily activities. From identifying inventory and labeling receiving lines to clearly marking products ready to be shipped out, having the proper signage in place is key to making it all work.

Warehouses that utilize our line of colored magnetic strips will find it easier than ever to label metal shelving units with the proper SKUs. The ability to change these important product numbers quickly is essential to keeping organizational standards firmly in place. The colored magnetic labels offered at Label Magnets allow for flexible and convenient product identification throughout any warehouse.

The incorporation of wet erase colored flexible magnets in a warehouse simplifies the labeling process by providing permanently magnetized options that can be repeatedly applied in other areas. No matter how many times a label is moved between shelves, it's designed to maintain its magnetic force.

Wet erase colored flexible magnets also make it easy to color-code inventory throughout a warehouse based on a product's life cycle. Seasonal inventory can be easily identified by everyone when it's time to prioritize new store layouts.

The benefits of wet erase colored magnetic strips also extend to scheduling boards and rental supply records. Prioritize workflow in a visually appealing and easy-to-understand way or keep track of borrowed equipment and supplies as it comes in and out of inventory with ease. As information changes, these labels make it easy to simply wipe schedules away and start fresh.

Wet Erase Colored Magnetic Labels that are Ideal for Customers of All Types

While wet erase colored magnetic labels are a must for warehouses looking to elevate their organizational standards, these products are also perfect for a variety of other uses! Magnetic strips are available for purchase in a variety of sizes which makes them just as well suited for small businesses as they would be for home projects and organization.

Customers that come to our company looking for wet erase colored magnetic strips and labels hail from a variety of backgrounds. We've helped customers get their home offices labeled, assisted churches with signage solutions and have found that our products are particularly helpful in schools and other academic settings.

Easy-to-Use Labeling Solutions

At Label Magnets, we pride ourselves on providing customers with magnetized labeling solutions that are simple and effective. Wet erase colored magnetic strips are easy to cut into custom sizes and shapes, providing highly flexible labeling options that stick to a multitude of surfaces. They're just as easy to wipe down before reapplying new organizational information.

The efficiency and flexibility of our colored magnetic strips make them great options for use in conference rooms, stock rooms, on filing cabinets, or any metal entry door that requires clear signage. For customers using these products at home, they're particularly helpful as refrigerator notes, or to help organize toys and games as that fun collection grows!

The Expertise and Products Customers Deserve

The team at Label Magnets is committed to providing top-tier customer service, no matter what your labeling needs may be. Our custom label ordering process is efficient and easy to understand.

Whether you have questions regarding our products or could use assistance with ordering, our knowledgeable staff is always available to help walk customers through the process step-by-step. When it comes to helping your business or residence stay organized, we're sure to have the perfect label in stock for any and every project imaginable.

We currently stock five colors in 1" and 2" widths on 50 foot rolls. The colors available are: blue, green, orange, red, yellow, and white. They are easily cut to length or we can provide ready-to-use cut strips.

The possibilities are endless:

Seasonal Items

Watch products nearing expiration dates

Identify locations

Differentiate rack levels

Stock holds or rejects

Highlight staging areas

Scheduling/tracking groups of tools, equipment, team members

And more!

---

People also looked at:

Dry Erase Colored Flexible Magnets

White Magnetic Strips

Custom Cutting

Custom Printing