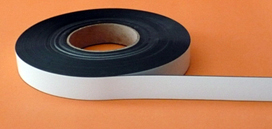 White Flexible Magnets are the most popular solution for labeling inventory. Easy to use and reliable these products help manage inventory and create a mobile labeling system. The white vinyl surface provides two usable solutions for labeling:
Place an adhesive backed label to the white vinyl surface.
Write directly on the white vinyl surface with a permanent marker or a WET erasable marker.
Rolls are .030", 1/32" thick also referred to as 30Mil.
Easy to cut with scissors, utility knife or shears.
Label metal shelves with SKU's, product numbers or identify locations.
Relocate inventory with label to new location in the warehouse.
Permanently magnetized and with repetitive applications the material maintains its magnetic strength.
| | | | | | | | |
| --- | --- | --- | --- | --- | --- | --- | --- |
| Part # | | | | | |   | |
| M05W | .030 x .5″ x 100′ white | $30.00 | $27.00 | $24.00 | 3lbs | | |
| M75W | .030 x .75″ x 100′ white | $40.00 | $36.00 | $32.00 | 3lbs | | |
| M1W | .030 x 1″ x 100′ white | $50.00 | $45.00 | $40.00 | 5lbs | | |
| M15W | .030 x 1.5″ x 100′ white | $57.00 | $50.00 | $46.00 | 8lbs | | |
| M2W | .030 x 2″ x 100′ white | $60.00 | $54.00 | $48.00 | 10lbs | | |
| M25W | .030 x 2.5″ x 100′ white | $70.00 | $64.00 | $58.00 | 13lbs | | |
| M3W | .030 x 3″ x 100′ white | $75.00 | $67.50 | $60.00 | 15lbs | | |
| M4W | .030 x 4″ x 100′ white | $100.00 | $90.00 | $80.00 | 20lbs | | |
Product Specifications
White vinyl accepts permanent or WET erase markers. Will withstand temperatures from 0 – 150 degrees F.
Applications for white magnetic labels
Organization is a key to success with any business or project. White magnetic warehouse labels are simple in design, but they're exceptionally useful in keeping items in order.
Label Magnets' customizable magnetic warehouse labels come in a wide variety of assorted sizes that are perfect for any application, user, or project. The vinyl surface presents two options for use: write on the white surface with a permanent or wet-erase marker, or apply an adhesive label to it and place it on a metal surface in your warehouse, meeting room, or office area. The wet-erase option makes switching contents easy, and the strong magnetic backing is ideal for frequent moves or changes from shelf to shelf.
The possibilities for white magnetic labels are endless:
Warehouse shelves

Bulk bins

Stock rooms

Scheduling boards

File cabinets

Metal entry doors

Kitchen areas

Offices

Computer or server rooms
Any place that can use a little arrangement and clarity can benefit from magnetic warehouse labels, whether it's a warehouse or not. Label Magnets give your business or project an organizational edge.
Custom cutting and design for white magnetic labels
Label Magnets manufactures white warehouse labels according to the size and shape that you need, in as many configurations you require. You can either write directly on the white vinyl surface or apply another adhesive-backed label on it. The .030" thick rolls cut easily with scissors, paper cutters or knives to fit your space, and the permanent magnets are strong enough for frequent use, reuse, or moving. Check out our magnetic strips that are already scored to length and ready to use: https://labelmagnets.com/white-magnetic-strips/
Magnetic warehouse labels are extremely helpful in several ways:
Organization

– Know the exact location of every item on your shelves

Frequent or quick relocation

– Move inventory around using labels with dependable magnetic backing

Continual changes in inventory or stocking

– With wet-erase markers you can easily change the information as needed by wiping the surface with a damp cloth. We recommend EXPO wet erase markers.

Multiple items of several types and sizes

– Keep track of items or tools with different lengths, bit sizes or styles
White warehouse labels instantly add a sense of order and efficiency to any work task, project, or space:
Warehouse inventory

In-store stocking

Auto, computer, or appliance repair parts

Arts, crafts or furniture making supplies

Restaurant kitchens, lockers, and refrigerators

Work rotations and schedules

Whiteboard presentations

Office supply cabinets and shelves

Mailrooms

School supplies

Museum or gallery exhibits
…and any other situation you can think of.
Our easy ordering process for white magnetic labels
Label Magnets' experienced and friendly staff has the knowledge and skill to customize magnetic warehouse labels in whatever way you need. Our representatives can talk you through the ordering process and even consult with you on the perfect label system for your project.
Customers return to Label Magnets for our low order minimums, competitive pricing, quality manufacturing, quick turnaround, and user-friendly customer service. All our products are manufactured in the USA. We ship anywhere within the United States within 24 hours of your order and accept major credit cards for all domestic orders.
Our white magnetic labels are the easiest solution for your inventory or organizational needs. Visit our online shopping cart, email us at sales@labelmagnets.com, or call us at 303-740-4892 to place your order.