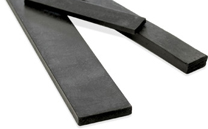 For applications requiring more strength, high energy flexible magnets provide up to sixty percent more holding power.
It is easy to machine, inexpensive and the right choice for light duty holding applications.
Magnetic strength is derived from:
The overall size of the magnet or surface area
How the product is magnetized
Thickness
High energy flexible magnets are an extruded and oriented product. The orientation is thru the thickness which allows us the chance to change magnetic pole patterns to achieve a holding strength critical to custom applications. This is notable for applications that are combining high energy magnets with metal channels or sandwiching between two metal pieces.
Thickness ranges from .030″ to .187″ thick
Lengths will vary depending on thickness and machine capabilities.
Finishes – adhesive, vinyl or plain
Easy to cut, punch, drill or shear to size.
Custom extrusion shapes may require a tooling fee.
Let us help with your next project! Contact us