Custom Cutting
Not all labels are compatible with the choices offered. We have converting machines available and waiting to create a unique size magnet for your warehouse or stock room. We can handle any quantity and do our best to keep our minimums low, our prices competitive and lead times within your time frame.
Standard vinyl colors available if you are looking to organize, prioritize or optimize your space or workflow. They are: Yellow, Blue, Black, Orange, Green and Red.
Adhesive specifications: Our industrial strength adhesive is geared towards general use. It is a permanent adhesive and like most adhesives require time to complete the bonding cycle. Applications where heat, humidity, weight or surface textures exist, adhesives with aggressive bonding may be required. Let our sales staff help determine which is best for your application.
In order to provide pricing for a custom size, we will need to know:
Quantity
What size magnet or label are you trying to fit.
Finishes – Plain, Adhesive, White vinyl or Color
Scored and left in roll form or individual pieces
Deadline
Custom Vinyl Envelopes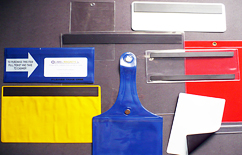 Vinyl envelopes are durable, functional, versatile and the perfect choice for merchandising items on the retail floor. Display and protect signage in instances of Special Sales, Price Points, Product Features, Data and much more. They provide protection from excessive handling, readability with a clear vinyl window and mounting options for hanging, sticking or attracting to metal surfaces. We have worked with many industries to create custom vinyl envelopes and there are no limits to their applications.
Mounting options: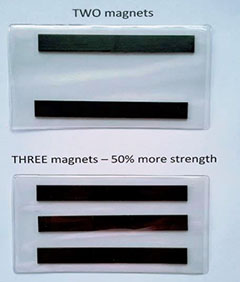 Hole(s) to hang
Magnets to attract to metal surfaces
Adhesive for permanent placement
In order to provide pricing for a custom size, we will need to know:
Quantity
The size of your insert
What mounting method is required
Deadline
Custom Printed Magnets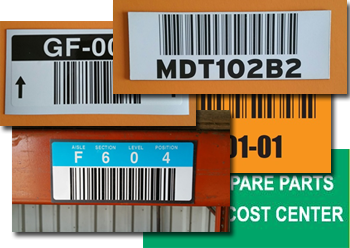 Let Label Magnets help you with your custom printed magnets for the warehouse, stockroom or office. We can supply durable labels already applied to magnets or create a unique magnetic label or sign with our full digital printing capabilities.
Flexible magnetic labels are a versatile and reliable system creating an efficient and organized warehouse and stockroom.
Because most clients have a unique size, color and variable data please call our sales department for additional help in getting you a custom printed magnet. [email protected]
Quality Magnetic Envelopes
At Label Magnets, we understand that organizing a warehouse so that it can function efficiently begins with having the right tools in place. While we carry a strong line of magnet labels that can streamline your warehouse organization, our magnetic vinyl envelopes are a particularly appealing and helpful product for our customers.
The Many Uses of Magnetic Vinyl Envelopes
Inventory and product lines can change quickly in a warehouse, and our magnetic vinyl envelopes are made to keep up with your fast pace! Designed with insertable card slots, it's easier than ever to change product display names and numbers with our special envelopes.
Magnetic envelopes are an ideal way to label metal shelves with SKU numbers, keeping your inventory in line and continuously accounted for. Our products are just as useful when it comes to identifying product locations within a vast warehouse setting.
The convenient magnetic backing on our envelopes makes it simple to remove from a shelf and just as easy to reapply to a new location. Incorporating magnetic envelopes into your warehouse is a good way to make sure that your labeling keeps up with product lifecycle standards.
A magnetic envelope is a great solution for warehouses that prefer to prioritize workflow and schedules on easy-to-use boards. Similarly, many of our customers find that they work well to create seasonal inventory codes when layouts change for the quarter.
Versatile Magnetic Envelope Options
At Label Magnets, we know that our customers' needs and purposes can vary widely and we're proud to provide the products to match every situation! Whether you're looking for just the right magnetic vinyl envelope or a magnetic label, we're sure to have what you're searching for.
Our magnetic envelopes and labels are extremely flexible and easy to use. They can be applied to a variety of surfaces. Many of our warehouse customers find them to be a perfect tool for use on metal racks and machinery.
Our magnetic envelopes are designed using high-quality vinyl. A magnetic vinyl envelope can be found in a variety of sizes, which helps customers who may be working on several projects at the same time.
While our envelopes and labels have long been useful in warehouses, they're just as helpful in the home and office. Many of our clients come to us when they need products that make organization easier in their living spaces, offices, schools, and churches.
A magnetic envelope may be just the right solution to label a conference room or a great addition to a bulk bin, scheduling board, file cabinet, or entry door. Customers often rave that our magnetic envelopes and labels are perfect for refrigerator notes, but you're just as likely to find them applied to home shelving units, displays, or on bins for toys and games.
Defining Features of Magnetic Vinyl Envelopes
Each magnetic vinyl envelope we produce is crafted with two magnetic strips attached to the back of the vinyl. This feature not only keeps the envelope secure, but also makes sure that it is easy to move from place to place.
Vinyl envelopes come in a variety of convenient colors, shapes, and sizes. Each one includes durable, non-rip seams. Customers are often thrilled to find that our powerful magnets won't scratch racks or shelves.
Our envelopes have a clear finish, making it easy to read the label. When it's time to swap out a label, the convenient side load design makes it simple.
Custom Ordering Vinyl Envelopes Through Label Magnets
Every project that our customers undertake is bound to be one of a kind. At Label Magnet, we provide custom-ordering options and products that you need to make your projects come to life.
Our easy-to-follow custom label ordering process is designed to put our customers at ease. With the help of our knowledgeable and friendly staff members, we walk customers through their options so they can land on a customized style and design that fits their every need.
From magnetic envelopes to labels, we can help you to redefine your ideas for project organization. Our products are durable, versatile, and functional, making them ideal for a wide range of activities and always a great option for merchandising items on a retail floor.
Many customers come to us looking for envelopes and labels that assist with displays that will protect their signage, and we're happy to help. Whether you're promoting limited-time sales, specialized price points, or highlighting product features, you'll find this feature to be particularly appealing.
At Label Magnet, we take a flexible approach to custom ordering and don't shy away from large orders. We're comfortable handling any quantity of product requested.
We work hard to keep our minimums low as an added convenience. Customers will find that our prices are competitive and our lead times are designed to be short and efficient.
We're passionate about what we do and the customers we serve. Contact Label Magnets today to learn more about how we can help you!